October 16th, 2009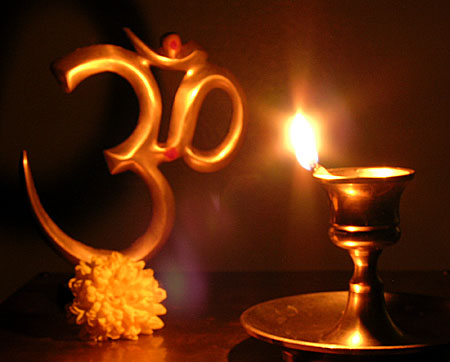 Wondering myself why? Isn't it Happy Diwali rather than 'Happy and Diwali'. Tapping my heart I was confirmed that my instincts were right. I wish Happiness and Diwali for all the citizens across the globe.
While the festival symbolize the victory of good over evil and light over darkness, it is a true festival in every sense. Never I have been more happy in my life than I am now, which makes me to question myself, why? If life has any meaning other than breath, bread and body, I had the bliss of being a human being trying to make things 'simple'. Nobles of past have shown us myriad paths to self-victory which are seldom put in action by us. Blessing everyone Happy Diwali will deny the wishes to be happy forward. My last article of Diwali reflected how I missed my homeland and its festivity, but mature since then, made me feel what true happiness really is. Without driving the darkness inside, celebration will be a myth and festivity shall only adore pale colors. Diwali is about us, it is about looking at the light and think of what greater are we than that lifeless lamp, which still shine bright to drive out darkness.
Vivekananda reiterated the fact that the source of all miseries is thinking about others. He did not mean that we be selfish. His emphasis of philosophy was to think that we are many but one and our actions often gives out its results taking the form of 'others'. There is no greater thing that God and God is in all good things. I have been fortunate to have 'Sat-Sang' which forms the onus of becoming a complete human.
So I wish you once again my fellow beings that be happy and celebrate Diwali. Every light that you lit today shall only shine and every deed that you do from today shall only do good.
Filed under
Soul Searching
| Tags:
Diwali
,
Festival of Lights
|
Comment (0)
October 28th, 2008
Today being Diwali, the most cherished and jubilant festival of India has always left good memories to me. When I was in India, I joined everyone in the relentless wait of celebrating Diwali with great zeal and utmost joy. Of all the festivals, probably Diwali is the only festival that truly fills light in everyone's lives. Fondly called 'festival of lights' by the west, India celebrates yet another with the same fervor and enthusiasm. And, sitting thousands of miles apart, as usual, I just cherish on my memories and keep almost quite today.
As a nation who normally doesn't know that festivals does happen during week-days, I am among the thousands who've lost the feeling of what really a week-day can bring to our lives, especially when it is a festival. Days and years are lost in the mindless rush of day-to-day lives and I sit here alone in my heart chewing on my past and satisfying my selfish ego. But sometimes, things were brighter. We did celebrate few Diwalis with semi-Indian ecstasy and replace those oil lamps with Chinese made garland lights. Of course, being autumn, we are assured of not blowing off those lights, to our happiness. This year is a dampener, I did not even took a traditional head-bath and I often blame it always on the never complaining 'time'.
I guess its totally personal. One can relish on whatever they've got and one always wants more. I fell to to the later and I regret it more than ever. Diwali was not just about those crackers (we eat them here and we light them in India) but, its about bringing everyone together, looking at each other across the streets, greeting peeple with joy, eat happily and fill the sky with light. It's human's ever lasting fight against the darkness that for one day will kneel down before him and pay tributes.
I miss all those treats and sweets that my mom used to make and the friends used to bring to us. The fragrance of new clothes and the scent of the burning oil.
May this Diwali bring everyone the light they are waiting for and the happiness they wish. The festival of lights shall never be gone from my heart and God shall help me find the same joy here in my new home, America.
I wish you all a very happy Diwali.
Filed under
General, Soul Searching
| Tags:
Diwali
,
Festival of Lights
|
Comments (7)